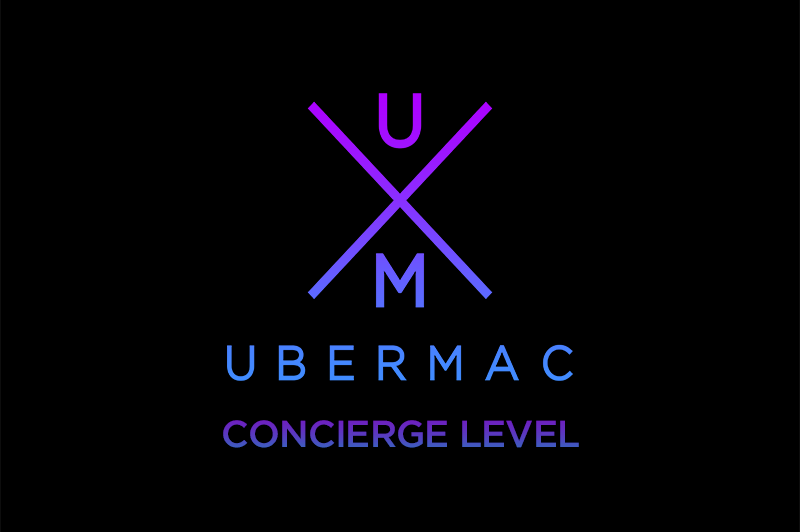 Concierge Level Apple Computer Help 
&

 Support
At Ubermac, we have a select group of clientele that prefer a higher level of service and attention when it comes to support for their Apple Computers and devices. That's where our unique level of service with Concierge Level Apple Computer Help & Support comes in. And we are the only company that we know of that offers a service like this, and on this level.
Ubermac's "Concierge Level" subscription is a yearly subscription. Access to this plan is $1,499 per year.
When you become a "Concierge Level" client, you get direct access to the owner of Ubermac and his personal mobile phone number. Additionally, you will also have access to his personal assistant, as well as other resources. This is so that whenever you need him, he is there for you, at your beck & call.
With a computer always within arms reach from him, you will only ever be minutes, if not seconds away from help and solutions.
The owner of Ubermac holds multiple Apple Certifications, has over 17 years of Apple computer & device experience. He has a client list that spans the United States from coast to coast. Currently, the majority of our concierge-level clientele consists of residents of Jupiter Island, Palm Beach Island, "A list" celebrities, sports figures, musicians, political figures, HNW (High Net Worth) & UHNW (Ultra High Net Worth) clientele. We would not normally tout these facts, but in this case, we feel it necessary so that we can make people aware of this extremely unique, private service. As far as we are aware, Ubermac is one of the only companies that we know of that offer a service like this.
We have extensive experience assisting and servicing this level of clientele. With that said, we believe that we are the best of the best. Additionally, we are confident that we have the proper skillset to successfully handle any and all issues related to your Apple products and devices, as well as being able to anticipate potential wants, needs, and possible issues or problems.
We at Ubermac are all about discretion, privacy, and protecting our clients' anonymity. Please feel free to contact us directly for more details on our "Concierge level" support services. We are always more than willing to sign legal agreements such as NDA's. This will assure the privacy and protection of our clients, and our professional relationship.
We are also able to perform "remote" computer assistance and management, and can remotely assist with your Apple computer, Apple iPhone and iPad from anywhere in the world, at a moments notice.
Concierge Member Benefits, Rules, Options & Stipulations
We want to be completely transparent as to what your additional benefits & options are once you become a member of our Concierge Level package. What you are subscribing to when you join our "Concierge Access Plan", is access to the owner whenever you need him. So here are more details on what you get, and what to expect with your membership:
There is never any charge for quick calls for questions or help that are 5 minutes or less, regardless of day or time. This includes even holidays! You have a quick question. Give him a call. No problem.
Hourly Rate Regular Hours Schedule: Monday to Friday between 9am – 5pm. This rate is $199 per hour. (Billed in 15 minute increments).
Hourly Rate Concierge Hours Schedule: Any hours outside of the above listed hours in the Regular Rate description. This rate is $299 per hour. (Billed in 15 minute increments).
Hourly Rate Holiday Hours Schedule: Any hours outside of the above listed hours in the Regular Rate description. This rate is $399 per hour. (Billed in 15 minute increments). ***PLEASE BE AWARE OF THIS HOLIDAY RATE BEFORE YOU CALL : ) ***
Regular Rate Hours & Charges: If a call for assistance goes over the complimentary 5 minute time limit, you agree to allow a charge at our "regular" rate for a 15 minute increment. You also agree to pay for continued help depending on the length of that call in additional 15 minute increments as needed. (Example: You call for quick help expecting only to use 5 minutes or less, but the call lasts for 6, 7 or 15 minutes total. You will then be billed for 15 minutes at the regular rate if it goes over the initially needed 5 minutes.) You will be billed in 15 minute increments as the call goes on, as needed. (Example: Our call lasts 48 minutes. You would be billed for 1 hour of help.)
Concierge Rate Hours & Charges: If you choose to call the owners mobile phone number after regular business hours as stated above in #2, you are calling during concierge hours and rates. This rate is at $299 per hour and will be billed per call in 15 minute increments. He will always answer no matter the time of day as long as he is awake, and no matter where he is.

Additional Benefits: Priority placement…….Jason finish this part.

Rules: All that we ask is that clients not abuse rule #1 above. We hope this doesn't happen, but it does. This means, don't call for a few minutes, then finish the call in under 5 minutes, then call back again for 5 minutes, and so on. We know this sounds ridiculous, but…..unfortunately we have to say it.
Please understand that our focus and skillset is exclusively related to Apple and it's products. This is why we believe that we are the best at what we do. Because we focus on one brand. One product. However, we have a large span of knowledge in regards to other products and services technology related. Some of these additional areas of knowledge include Gmail & eMail help, printer installation and troubleshooting, wireless networks, iCloud synching, password help and troubleshooting, password management, Apple Photos, Microsoft Windows, Microsoft Office, Word, Excel, computer hard drive data recovery, hard drive repair & replacement, home theater help, Sonos, Nest, and a plethora of other solutions for you.
Of course, we have references available upon request. However, please understand that there is a vetting process before the release of these references. We hope that you understand.
This exclusive service is available to a small, select group of clients, and is limited to 15 subscribers maximum per year. This keeps our client satisfaction at a level that will always meet or exceed our members expectations. Please call for pricing.
Some of our Concierge Level Apple Computer Help & Support service areas include Jupiter Island. Palm Beach Island, Bear's Club, Trump National, Seminole Golf Club, Jupiter Hills. Admirals Cove, Loxahatchee Club, The Breakers, and other areas as well.
We look forward to speaking with you, and hopefully becoming your Apple Certified, right hand, go to Apple solutions resource.