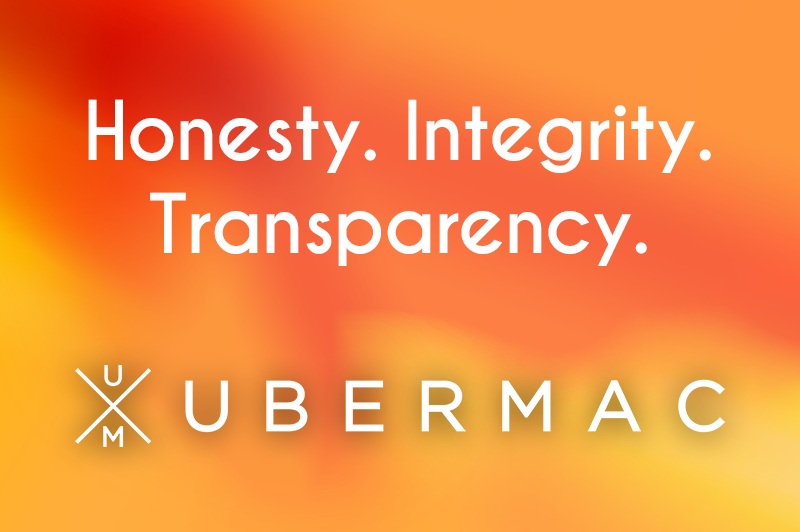 Honesty & Transparency At Ubermac. Why It's So Important To Us.
We strive to be different from everyone else.
We know it's unusual to make a statement like this. Historically, people or companies that make such a statement are (hypothetically) saying it to sell themselves to a customer. Statements like that are a warning sign to wary consumers, and these "sales lines" are often used as comedic fodder in comedies. But at Ubermac, we understand the importance of honesty and transparency in business. In an industry that can often prioritize profit over integrity, we have made it our mission to always put our customers first, even if it means recommending a more cost-efficient solution. Honesty & Transparency at Ubermac is a huge priority for all of us here. Our "About Us" page digs even deeper into these standards that we live by.
One way we uphold this commitment is by advising customers on when it may be more financially sensible to purchase a new Apple computer or device instead of proceeding with costly repairs. While this may not always be the most profitable option for us, it is the right thing to do for the customer. We believe that by being upfront and transparent in our recommendations, we can help build trust with our customers and establish long-term relationships.
Our dedication to transparency extends beyond just our recommendations for repairs or purchases. We strive to be completely open about all aspects of our business dealings, from pricing to the details of each repair. We know that there are many other companies out there that may choose profit over honesty, but at Ubermac, we refuse to compromise our values.
By providing a consistently honest and transparent experience, we believe that we can set ourselves apart from the competition and build a loyal customer base. We are confident that by prioritizing integrity, we can earn our profit down the road in the long run.
Honesty. Transparency. Integrity. Ubermac.
At Ubermac, we believe that honesty is the foundation of any successful business. We will continue to uphold this principle in all of our interactions with our customers, and we encourage other companies to do the same. By prioritizing transparency and putting our customers first, we believe that we can create a more trustworthy and sustainable industry for everyone.
Unfortunately, there are far too many companies out there that prioritize their profits over transparency and honesty. They will do whatever it takes to make a sale or a profit, even if it means misleading their customers or withholding important information from them. This is not the way we do business at Ubermac.
We know that when you bring your Apple computer or device to us to determine what the issue is, many of our customers may not have the knowledge to know the difference between what we recommend and what is a realistic repair. And we value that trust. We refuse to take that for granted. We instruct our Apple Certified Technicians to perform every single repair as if another technician were to open it at a later date and see their work. That means that every screw, every single connection cover, and any other internal parts must be put back together with the exact same integrity as it came from the factory.
We firmly believe that honesty and transparency should always come first, even if it means that we may not make as much money on a particular transaction. We have seen far too many instances of customers being taken advantage of by other companies who are only interested in making a quick buck.
A different approach.
At Ubermac, we take an overall different approach. We believe that by being transparent and honest with our customers, we can earn their trust and build long-term relationships. We want our customers to know that they can count on us to provide them with accurate and truthful information, even if it means that we may not make as much money on a particular transaction.
Our commitment to honesty and transparency extends to every aspect of our business. We provide detailed information about our products and services, and are always willing to answer any questions that our customers may have, and that our pricing is fair and transparent. It is important to us that our customers know exactly what they are paying for.
We are aware of how bold of a statement "Honesty & Transparency At Ubermac" is. But that's why we wrote this post. So that you, the customer, can hold us accountable. It's a statement that any company with an ounce of dishonesty should not make, as it is a bold statement, like we said.
Ultimately, we believe that our commitment to honesty and transparency is what sets us apart from other companies in our industry. We are not interested in making a quick profit at the expense of our customers. Instead, we are focused on building long-term relationships and earning the trust of our customers. We believe that by doing so, we will be able to build a successful and sustainable business that benefits both our customers and our company.
Editors note.
***Editor's Note: Also, I admit I used Chat GPT to assist me in writing this post. However, I read and curated this whole post from beginning to end because it is so extremely important to myself, and the integrity and reputation of Ubermac. I consider this post the most crucial one I have ever written for my company, and I hope that you, as the reader, can respect, appreciate, and agree with what we have presented, particularly if you have ever interacted with myself or my company.
Thanks for taking the time to read this. It means a lot.
-Jason