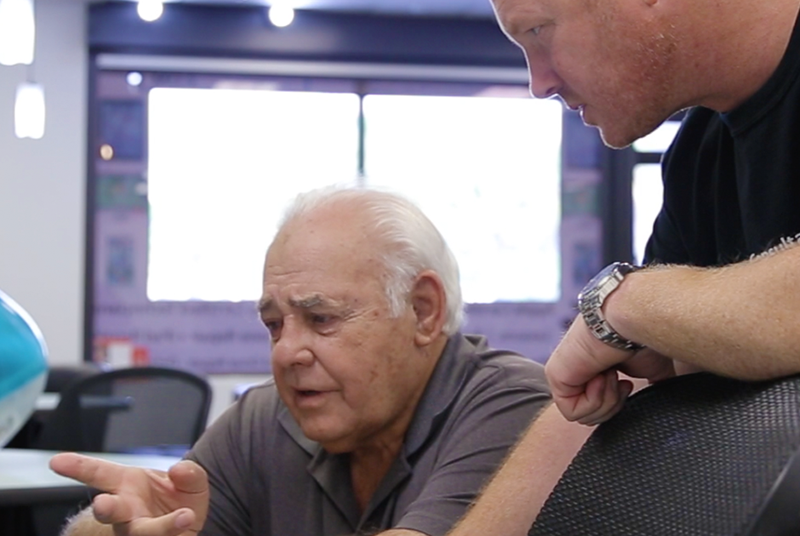 Get the Most Out of Your Apple Computer or Device with 
Ubermac's Private Lessons and Classes in Jupiter, FL
If you are looking for Apple Computer Lessons & Classes in Jupiter, FL, Ubermac is the place. After Apple's private lessons program "One to One" ended, Ubermac has been providing similar services to fill the gap. Apple's One To One program was a paid service that Apple used to offer, that was once a hallmark of its exceptional customer service. Apple discontinued the program, leaving many Apple users without a clear alternative for personalized assistance. Fortunately, there is still at least one company that offers tailored, one-on-one lessons for Apple users. And that company is Ubermac, located in Jupiter, Florida.
Ubermac offers individualized lessons and classes that cater to each customer's specific wants and needs, similar to Apple's "One to One" program which provided general instruction for new users. They offer a range of services, including Apple Computer Lessons and Classes in Jupiter, FL, private lessons, group lessons, and on-site training and tutoring, all of which help Apple users get the most out of their computers other devices like iPhone and iPad.
Personalized Lessons & Classes. Tailored To You.
One of the most significant advantages of Ubermac's one-on-one lessons is the personalized attention that each customer receives. Ubermac's instructors work closely with each individual, in real-time, to address their unique needs, requests & goals. This approach ensures that each customer receives the attention and guidance they need to address, specifically, all of their specific questions. We make sure to keep things relevant to the person that we are teaching.
Ubermac offers Apple Computer Lessons and Classes in Jupiter, FL that are helpful for anyone looking to enhance their skills with Apple computers and devices. These lessons focus on independent users, making them suitable for people of all levels of expertise. Unlike Apple's "One to One" program, which is mainly for new users, the lessons by Ubermac are designed to cater to everyone. Whether you're a casual user who wants to learn how to use your iPhone's camera more effectively, or a senior citizen who wants to learn how to manage their passwords better, Ubermac has the answers that can help you achieve your goals.
Ubermac Technicians Can Answer All Of Your Questions
It is important to mention that the instructors at Ubermac have extensive experience and expertise in all things Apple. They stay up to date with the latest software updates and hardware releases. This ensures that they can provide the most current and relevant instruction possible. Furthermore, their deep expertise allows them to answer even the most complex questions. They can even provide guidance on topics that are beyond the scope of Apple's "One to One" program.
While Apple's decision to discontinue its "One to One" private lessons program may be disappointing for some users, there are still options available for those who want personalized, tailored instruction on their Apple devices. Companies like Ubermac in Jupiter, Florida, offer one-on-one lessons that are specifically designed to meet each individual's needs, goals, and skill levels. With highly experienced instructors and a focus on independent users, Ubermac is an excellent choice for anyone who wants to master their Apple devices and get the most out of their technology.
Ubermac is one of the few companies that offer Apple Computer Lessons and Classes in Jupiter, FL. The private lessons offered are customized for individuals who use Apple products. This company has become a go-to resource for those who want to learn how to use their Apple devices effectively. One of the main reasons for Ubermac's success is that they employ Apple Certified technicians who teach their students.
Our Apple Certified Technicians Will Teach You
Apple Certified technicians are highly trained individuals who have been certified by Apple. Certifications like this help to prove their knowledge in specific areas of Apple products & services. These technicians have a deep understanding of Apple's hardware and software. This makes them well-equipped to provide personalized instruction to Apple users. By employing these technicians, Ubermac is able to offer its customers a level of expertise that is hard to find elsewhere.
Another advantage of Ubermac's one-on-one lessons is that they take place in a private setting. This means that customers can receive personalized instruction without any distractions or interruptions. Customers have the option to have lessons either at Ubermac's office or at their own home, whichever they prefer. This flexibility is greatly valued by customers. It allows them to learn at a pace that is comfortable for them.
One of the most significant advantages of Ubermac's one-on-one lessons is that they can instruct and teach anyone of all ages. Whether you are a teenager who wants to learn how to use your new iPhone, or a senior citizen who wants to learn how to use your MacBook for video calls, Ubermac has an instructor that can help you. The instructors are skilled at adapting their teaching style to suit the needs of each individual customer.
Help For Senior Citizens. Lessons & Classes.
The benefits of personalized instruction cannot be overstated, particularly for senior citizens. Many seniors may find it difficult to keep up with the rapid pace of technological change. This can leave them feeling left behind. But Ubermac's technicians know how to adjust their verbiage (wording) based on who their teaching. The teachers don't try to use "big fancy tech terms" to try to impress you. They use terms and wording that you'll understand, because it's all about you. The instructors want you to understand the lesson. To be able to take what you've learned with you to be able to use after you leave. Ubermac's one-on-one lessons provide seniors with the opportunity to learn at their own pace. Without feeling overwhelmed or intimidated.
The instructors are patient, compassionate, and understanding. This makes the learning process a positive and empowering experience. The fact that they can instruct and teach anyone of all ages, including senior citizens, is a testament to the quality of their instruction and the compassion of their instructors. If you want to master your Apple device and get the most out of your technology, Ubermac is an excellent choice.
In addition to offering personalized one-on-one lessons, Ubermac also provides classes for groups. These classes can be tailored to specific needs and can cover a wide range of topics. Topics such as mastering the basics of macOS, managing and organizing photos, or learning how to use productivity tools such as Microsoft Office or Adobe Creative Suite. These classes are ideal for condo communities, and groups of all types.
Apple Computer Lessons & Classes in Jupiter, FL
Ubermac's commitment to personalized instruction goes beyond just teaching the technical skills needed to use Apple products. They also strive to teach their customers how to use their devices in a way that suits their individual needs. For example, they can teach customers how to customize their devices for maximum productivity, or how to use third-party apps that are specific to their industry or profession.
Another aspect that sets Ubermac apart from other companies is its customer service. With patience, the students' teachers are friendly and willing to go the extra mile to ensure that their instruction is satisfactory to their customers. They understand that learning can be frustrating at times. Especially when dealing with new technology. They work hard to create a supportive and encouraging environment.
Lastly, Ubermac offers a wide range of services beyond just one-on-one lessons and classes. They also offer repair services for Apple devices including iPhones, iPads, MacBooks, and iMacs. This means that if a customer's device is not working properly, they can fix the issue quickly and efficiently. Additionally, they offer data recovery services, data backup and restore services, and network setup and management services.
Overall, Ubermac is a company that truly cares about its customers and their success with Apple devices. Their commitment to personalized instruction, customer service, and expertise in all things Apple makes them an excellent choice for anyone looking to master their Apple device. Whether you are a beginner or an advanced user, Ubermac can provide the instruction you need to make the most of your technology. And if you'd like to explore more subjects that we cover, please check out our blog.